Honey Lemon Cake Pull-Aparts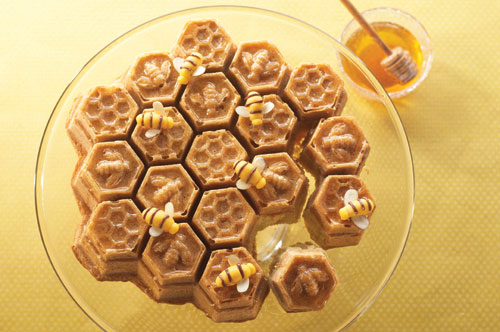 Photo and recipe: Nordic Ware
Cake Ingredients:
- 3 cups cake flour - 1 1/2 tsp baking powder - 1 tsp baking soda - 1/4 tsp salt - 1 cup butter, softened - 1 1/2 cups sugar - 4 eggs - 2 Tbsp finely grated lemon rind - 1 cup sour cream
Glaze Ingredients:
- 3 Tbsp honey - 1/2 cup powdered sugar - 2 Tbsp lemon juice
Directions:
** Use with our Honeycomb Cake Pan 1. Heat oven to 325° F. Grease and flour pan; set aside. 2. In medium bowl, combine flour, baking powder, baking soda and salt; set aside. 3. In large bowl, beat butter and sugar on low speed until blended. Beat on medium speed until light and fluffy. 4. Add eggs and beat until well blended. 5. Add flour mixture, sour cream and lemon rind; blend on low speed 1 minute, scraping bowl often. Beat on medium speed 2 minutes. 6. Spoon batter into prepared pan. Bake for 45-55 minutes, until toothpick inserted comes out clean. Cool 10 minutes in pan. 7. Meanwhile, make glaze: In small saucepan, combine all glaze ingredients and heat over medium heat until sugar dissolves and glaze is warm. 8. Invert cake onto cooling rack and brush with honey glaze.