Lemon Lavender Bundt Cake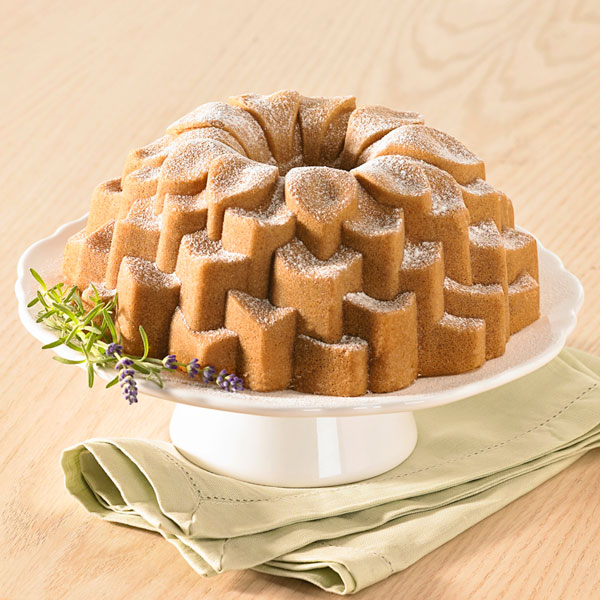 Recipe thanks to Nordic Ware.
Ingredients:
- 3 cups flour - 1 1/2 tsp baking powder - 1 tsp baking soda - 1/4 tsp salt - 1 cup butter - 1 1/2 cups sugar - Tbsp dried or Tbsp fresh lavender flowers - 4 eggs - Tbsp fresh lemon juice - 1 cup sour cream or plain yogurt - 2 Tbsp finely grated lemon zest
Optional Glaze:
- 1 1/2 cups sifted powdered sugar - 3 Tbsp honey - 1 Tbsp fresh lemon juice
Instructions:
1. Heat oven to 325°F. Grease and flour Bundt pan; set aside. In medium bowl, sift together flour, baking powder, baking soda and salt; set aside. 2. In large bowl, beat the butter and sugar on medium speed, 2 minutes, until light and fluffy. Add lavender and beat 3 minutes longer, scraping bowl often. Add eggs, one at a time, beating well after each addition; stir in lemon juice. Reduce speed to low and gradually add the flour mixture, alternating with sour cream, scraping bowl often. Fold in lemon zest. Spoon batter into prepared pan, spreading the batter so the sides are higher than the center. Bake 55-60 minutes, until toothpick inserted comes out clean. Cool in pan 15 minutes. Invert onto serving platter and cool completely. Glaze or dust with powdered sugar.
Glaze:
In small bowl, combine powdered sugar, honey and lemon juice. Mix well, adding additional lemon juice if needed to reach desired consistency. Spoon over cooled cake.